What is HealthOps Escalate?
Escalate is an Escalation Management System that has been built in partnership with the Rotherham NHS Foundation Trust to improve patient care efficiency and response times within the Trust.
Escalate notifies and updates operational, clinical and administrative teams such as front-line staff, supervisors and operational services managers across the organisation, it reduces the amount of time for information to be passed on to the relevant party or authority, thus leading to the required action being taken sooner.
For the Trusts already using this solution, it has become "Care Traffic Control" and enables the organisation to track both actual v. predicted surges/increases in demand across all departments. The operational teams and decision makers know where to focus efforts and energies on patient care.
The value and impact of Escalate is that it has now become a single source of truth and valued at each operational level throughout the Trust – all using the same info, and speaking the same language in real-time.
Enter your contact details below to download the Escalate Product Brief.
What Does Escalate Do?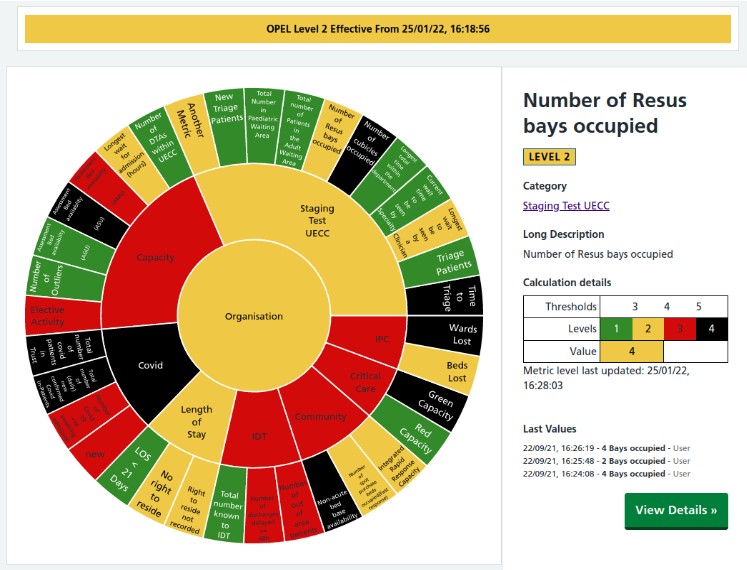 Escalate is built to be is a responsive web application which can be used on any number of devices within the hospital or trust, such as Operating Room monitors, laptops, tablets and mobile phones. The heart of the system is the collection of measures which are used to calculate the OPEL (Operational Pressures Escalation Levels) levels for metrics, categories and ultimately the organisation.
Metric levels are calculated using a variety of methods; ascending thresholds, descending thresholds or direct level entry. The calculation for categories and the organisation is by weighted thresholds which allows the calculations to be fine-tuned to prioritise metrics within a category or categories within the organisation.
The primary visualisation for the application shows metrics around the outside that feed into categories and an overall organisation level. The side panel shows the data for any of the elements, in this case, the number of resus bays occupied.
What are the Key Benefits?
Transparent reporting of OPEL levels

Supports winter capacity planning for CCGs, hospitals and community services

Reduces time to implement escalation actions and speeds up responses

Joins escalation plans across and within organisations into single plan

Coordinates responses across all organisations delivering urgent care

Makes escalation plan live and real time instead of static

Support surge planning to improve emergency preparedness for winter pressures

Manage impacts of delayed discharge, bed occupancy on patient flow
Read The Full Interview